Dedicated to writer R. A. Lafferty (1914-2002), about whom the NY Times said:
"…a prolific science fiction writer best known for his short stories and his fresh, eccentric style …had a strong, satirical style and pushed the limits of his genre. One story asked what would happen if everyone on earth had a gun, and another created a world in which fads were created, peaked and died all in a day. A Roman Catholic, he was known for the theological content of his writing.

He wrote more than 200 short stories and 21 novels – historical novels as well as science fiction. Mr. Lafferty received the Hugo Award from the World Science Fiction Society in 1973 for his short story 'Eurema's Dam.'"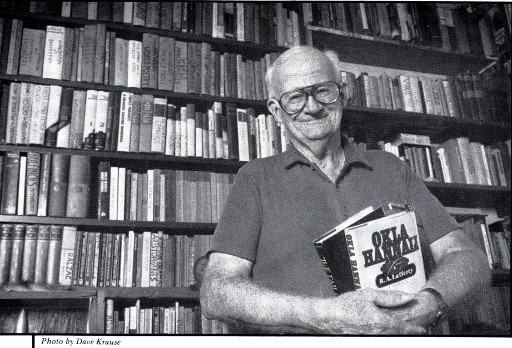 From Slow Tuesday Night (1960):
"It had been a slow Tuesday night. A few hundred new products had run their course on the markets. There had been a score of dramatic hits, three-minute and five-minute capsule dramas, and several of the six-minute long-play affairs. Night Street Nine—a solidly sordid offering—seemed to be in as the drama of the night unless there should be a late hit.

Hundred-storied buildings had been erected, occupied, obsoleted, and demolished again to make room for more contemporary structures. Only the mediocre would use a building that had been left over from the Day-Flies or the Dawners, or even the Nyctalops of the night before. The city was rebuilt pretty completely at least three times during an eight-hour period."  … more
From The Six Fingers of Time (1960):
"In the street there was no motion, no real motion. A truck, first seeming at rest, moved very slowly. There was no gear in which it could move so slowly. And there was a taxi which crept along, but Charles Vincent had to look at it carefully for some time to be sure that it was in motion. Then he received a shock. He realized by the early morning light that the driver of it was dead. Dead with his eyes wide open!

Slowly as it was going, and by whatever means it was moving, it should really be stopped. He walked over to it, opened the door, and pulled on the brake. Then he looked into the eyes of the dead man. Was he really dead? It was hard to be sure. He felt warm. But, even as Vincent looked, the eyes of the dead man had begun to close. And close they did and open again in a matter of about twenty seconds.

This was weird. The slowly closing and opening eyes sent a chill through Vincent. And the dead man had begun to lean forward in his seat. Vincent put a hand in the middle of the man's chest to hold him upright, but he found the forward pressure as relentless as it was slow. He was unable to keep the dead man up." … more
In a 1973 interview with Alien Critic, R. A. Lafferty told Paul Walker 1:
"I write as clearly as I am able to. I sometimes tackle ideas and notions that are relatively complex, and it is very difficult to be sure that I am conveying them in the best way. Anyone who goes beyond cliche phrases and cliche ideas will have this trouble."
In a 1979 interview, R. A. Lafferty told Robert J. Whitaker 2:
"You seem to posit a real world, but that is doubtful. There isn't any reality except the various consensus realities. And no two persons belong to quite the same consensus. So the world that a person lives in is largely a world that he has fictionized, whether he is a fictioner by trade or not. Whatever frustrations we find in the cantankerous combo-world is partly from our own inability to shape things just the way we want to.

Pax, paz, peace, iri'ni, salaam, scholem, heiwa, amani, perdamaian, sulh, rusha, pokój, fred, vrede, frieden, síocháin, mirno."
Lafferty's list of sixteen non-English words concluded his 1979 interview.
To see the language name, you can hover your mouse pointer over each word, or click the word. Lafferty knew the Latin, French, Spanish, Italian, German and Dutch language well, with a reading or speaking knowledge of Greek, Gaelic, Malay, Tagalog, Hebrew, Arabic and Slavic languages. 3
For a list of stories and novels written by R. A. Lafferty, see his Works and quotes.
Quotes
"Lafferty is our unheralded American Garcia Marquez …" —Terry Bisson  4
"Lafferty has the power which sets fire behind your eyeballs. There is warmth, illumination, and a certain joy attendant upon the experience." —Roger Zelazny  5
"…like Gulliver's Travels, almost all of Lafferty can be read as enchanting entertainments, or as sharply-etched political cartoonery, or as analogs of a superbly thought-out philosophy concerning human nature and human conduct. In other words, you get out of Lafferty, as out of Swift, whatever you're equipped to bring in." —Theodore Sturgeon  6
"R. A. Lafferty… was undoubtedly the finest writer of whatever it was that he did that ever there was. He was a genius, an oddball, a madman. His stories… are without precedent." —Neil Gaiman  7
"Lafferty's Stories, like Philip K. Dick's, are not susceptible to being confused with the work of any other writer." —Fred Saberhagen  5
"He is our most original writer… Just about everything Lafferty writes is fun, is witty, is entertaining and playful. But it is not easy, for it is a mingling of allegory with myth, and of both with something more." —Gene Wolfe  8
"Lafferty gives the impression of a sort of bumbling, provincial rube, but underneath the strategic humility is a steel-trap mind and a terrifying erudition." —Iao  9
"Lafferty belongs to a select group that includes James Joyce and Amos Tutuola, of writers who have reinvented the language of literature for themselves from the ground up… Lafferty has drawn strongly from the oral tradition of the American tall tale." —Michael Swanwick  10
"Wild, subtle, demonic, angelic, hilarious, tragic, poetic, a thundering melodrama and quest into the depths of the human spirit… R.A. Lafferty has always been uniquely his own man." —Poul Anderson  4
"The history of the Choctaw Indians has been told before and is still being told, but it has never been told in the way Lafferty tells it…Hannali is a buffalo bull of a man who should become one of the enduring characters in the literature of the American Indian." —Dee Brown  4
"Lafferty unfailingly puts us, in his own words, 'into a different juxtaposition with all things else in the world.' Nobody else does it better. In fact, nobody else does it at all–not like this. Lafferty is one of a kind, a magician of strange images made fleetingly recognizable, of familiar emotions made strange and new and haunting. A delight." —Nancy Kress  4
"You read a few of his stories and you begin to feel him rewriting your brain and opening new possibilities of what fiction, and science fiction especially, are capable of doing." —Andrew Ferguson  11
"No [science fiction] writer, so far, has really felt the need to push the limits… [like Lovecraft]. The only exception might be the strange author, very strange, who is RA Lafferty. More than science fiction, Lafferty sometimes seems to create a kind of philosophy fiction, unique in that ontological speculation plays a more important role than sociological, psychological or moral questions." —Michel Houellebecq  12
"It is a minor miracle that a serious philosophical and speculative work should be written so colorfully and so lyrically. There is, happily, no way to categorize the book: it has elements of science fiction, of pure fantasy, of poetry, of historical fiction." —Judith Merril  4
"Some day the taxonomists, those tireless obsessives who put labels on everything, will have to categorize literature as Westerns, fantasies, romances, lafferties, science fiction, mysteries…" —Theodore Sturgeon  13
"To the memory of Raphael A. Lafferty, The elf from Oklahoma, Who could do things with words that most writers can only do with dreams." —Alan Dean Foster  14
Interview by Paul Walker, Alien Critic Volume 6, 1973 ↩

Interview by Robert J. Whitaker, At The Sleepy Sailor, The Sons of the Sand, 1979 ↩

Introduction to Bright Flightways, Chrysalis Volume 3, 1978 ↩

R.A. Lafferty obituary, Washington Post, April 4, 2002 ↩

Introduction to Episodes of the Argo, 1990 ↩

Iao, Amazon.com , 2007 ↩

Introduction to Iron Tears, 1992 ↩

UVA Today, Grad Student's Focus on Science Fiction Author Leads to Book-Collecting Prize, April 12, 2012 ↩

Sortir du XXème siècle, Michel Houellebecq ↩

Introduction to Quiz Ship Loose, Chrysalis Volume 2, 1978 ↩

Alan Dean Foster, Dedication, Impossible Places, 2002 ↩