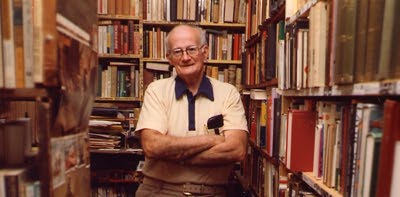 R. A. Lafferty on his personal library:
"… sometime in late 1946, I came home from the war and went back to work in the Electric business. Everything went well with me. I had friends and fun. I accumulated 8,000 books, all of them choice." 1
Keith Purtell (who took the above photo in 1998) described the library:
"Ray opened a plain door and I followed him between two long book shelves that towered above my head. They ran most the length of the room, leaving only enough space for a left turn near the far wall. The shelves were packed with hundreds of books. We turned left and I saw another narrow corridor framed by high, full book shelves on the right and several book-lined avenues radiating off to the left, each disappearing into dim recesses. We walked straight along the wall to the far corner and made another left turn, whereupon our final destination was in sight; Ray's "office." He told me this was where he did all his writing. He gestured to a rickety little table and a manual typewriter. A simple gooseneck lamp hovered expectantly over the typewriter."
It appears that no inventory was taken of Lafferty's personal library before it was dismantled. However, some of his letters and interviews included commentary on books. As these are identified, they will be added to this page, along with a Lafferty quote if available.
---
Books Reviewed
Adventures in Time and Space, by Raymond J. Healy & J. Francis McComas, 1946

"I had read the Healy and McComas anthology … my reaction to that was that it was wonderful. My reaction when I began to look for other good science fiction stories was that there weren't any other good ones…" —R.A.L. 2

The Ancient Engineers, by L. Sprague De Camp, 1963

"This is more exciting than any of the dozens of fictional works written by this talented man." —R.A.L. 1

· wikipedia · isfdb · kirkus · goodreads · amazon · used · openlibrary · preview

The Catholic Encyclopedia, 15 Volumes & Index, 1913

"There's lots of information on its 12,000 pages. When I wonder 'What was it really like?' I look up the key city of a place. If it had a Bishop, it had a history. There are entries as droll as tales out of Chaucer. The color and flavor are to be found everywhere." —R.A.L. 1

· wikipedia · oce · archive.org · kindle

The City of God, by St. Augustine, 426

"It's all there, even if in a sort of code." —R.A.L. 1

· wikipedia · goodreads · ccel · archive.org · amazon · preview

The Decline of the West, by Oswald Spangler, 1922

"… don't forget the strange work … by the strange genius Oswald Spengler. Once you have read that, everything in the world has a different color to it." —R.A.L. 1

· wikipedia · goodreads · archive.org · kindle · used · preview

Endangered Species, by Gene Wolfe, 1989

"This is the biggest and probably the best one-author collection to appear in the '80s. There are at least three stories in it that should have won Hugos, and there are no poor stories in it at all… Read it, and then read at least half of it again." —R.A.L. 3

Harper's Dictionary of Classical Literature and Antiquities, by Harry Thurston Peck (ed.), 1963

"There are absolute delights to be found on every one of its 1701 pages." —R.A.L. 1

· wikipedia · perseus · archive.org · amazon · used

A History of Technology, by Charles Singer (ed.), 5 Volumes, 1954

"One unsuspected source that I used a lot … Vol. 1 'From Early Times to the Fall of Ancient Empires' is a treasure trove of early and unsuspected technology." —R.A.L. 1

· archive.org (abridged) · amazon · related history · used

The History of the Decline and Fall of the Roman Empire, by Edward Gibbon, 1776

"There were numerous 'Histories of Rome' which cover the subject but most of them lack real excitement. Well, all of them lack it except Gibbons. Gibbons is sometimes inaccurate, but not very often. He is sometimes prejudiced, and sometimes his fine sense of proportion fails him (but only for a little while and not seriously). But he is always exciting, he is a wonder, he has a true touch of magic, even if he sometimes uses too broad a brush with it." —R.A.L. 1

· wikipedia · manybooks · libertyfund · goodreads · amazon · kindle · used

Plutarch's Lives, 1st century

"Plutarch invented the novel as well as the biography in this. There were really fifty short-or-medium-length novels here (the degree of fiction can't be determined now), and they are good. He really invented narration as distinguished from rhetoric and a few other things. He was the world's best novelist (Balzac comes in second) and nineteen hundred years haven't done him any harm at all." —R.A.L. 2

· wikipedia · manybooks · archive.org · goodreads · goodreads · amazon
---
Books Cited
The Bow in the Clouds, by E.I. Watkin, 1931

In 2011 and 2014, Andrew Ferguson reviewed the influence of E.I. Watkin on stories in Through Elegant Eyes. Gregorio noted that Lafferty quoted Watkin in Tales of Midnight.
---
Books Photographed
---
Books Sold
Emmanuel Burden, Merchant, of Thames St., in the city of London, exporter of hardware: a record of his lineage, speculations, last day and death, by Hilaire Belloc, 1904 5

Includes 34 illustrations by G.K. Chesterton.

The End of the Affair, by Graham Greene, 1951 5

Literary Distractions, by R. A. Knox, 1958 5

· wikipedia · society · the point · archive.org · amazon · amazon

The Medusa and the Snail: More Notes of a Biology Watcher, by Lewis Thomas, 1979 5

The NIV triglot Old Testament, by John R. Kohlenberger, 1981 5

Interlinear Greek-Hebrew-English Old Testament.

· amazon · used · sample page
---
Writers Cited
---
Notes
Cover blurb by R. A. Lafferty, for Endangered Species, Gene Wolfe ↩

Photo, A.F. report, 2014 ↩

Page 52, The Flame is Green, Corroboree Press,1985 ↩